Greatest single news event of 1938 took place on September 29, when four statesmen met at the Fuhrerhaus, in Munich, to redraw the map of Europe. The three visiting statesmen at that historic conference were Prime Minister Neville Chamberlain of Great Britain, Premier Edouard Daladier of France, and Dictator Benito Mussolini of Italy. But by all odds the dominating figure at Munich was the German host, Adolf Hitler.
Fuhrer of the German people, Commander-in-Chief of the German Army, Navy & Air Force, Chancellor of the Third Reich, Herr Hitler reaped on that day at Munich the harvest of an audacious, defiant, ruthless foreign policy he had pursued for five and a half years. He had torn the Treaty of Versailles to shreds. He had rearmed Germany to the teeth–or as close to the tooth as he was able. He had stolen Austria before the eyes of a horrified and apparently impotent world.
All these events were shocking to nations which had defeated Germany on the battlefield only 20 years before, but nothing so terrified the world as the ruthless, methodical, Nazi-directed events which during late summer and early autumn threatened a world war over Czechoslovakia. When without loss of blood he reduced Czechoslovakia to a German puppet state, forced a drastic revision of Europe's defensive alliances, and won a free hand for himself in Eastern Europe by getting a "hands-off" promise from powerful Britain (and later France), Adolf Hitler without doubt became 1938's Man of the Year.
[…]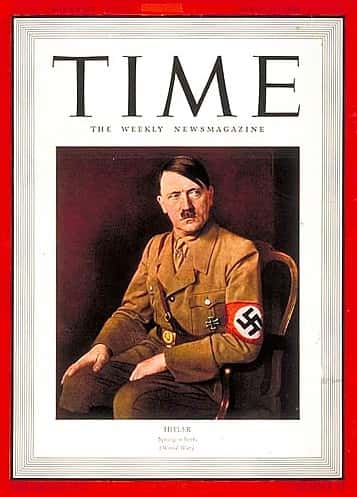 ---
Source:
www.time.com/time/subscriber/personoftheyear/archive/stories/1938.html