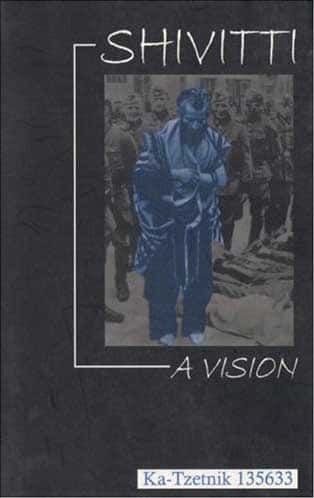 Shivitti: A Vision
[…]
From Publishers Weekly
Ka-Tzetnik 135633 […] is the pen name of Yehiel De-Nur, a pseudonym derived from the tattoo branded on his arm in Auschwitz. In an unusual footnote to the large body of Holocaust literature, the Israeli author describes the LSD treatments he underwent in 1976 under the supervision of a Dutch psychiatrist and specialist in the so-called Concentration Camp Syndrome. The hallucinogen incongruously prettifies some memories […]. But, for the most part, the drug allows De-Nur to combat his demons as it intensifies his recollection of grotesqueries that were the order of the day in Auschwitz, the "planet of death." From the fragmented, impressionistic account emerge trenchant images of martyrs: […] a Dutch Jew covered in marmalade by Nazis and bitten to death in mass frenzy by fellow prisoners.
---
Source:
www.amazon.com/Shivitti-Vision-Gateways-Consciousness-Classics/
dp/0895561131
Referring to:
Shivitti: A Vision, by Ka-Tzetnik 135633, paperback: 119 pages, Gateways Books & Tapes; Second edition (December 1, 1998).
---
Webmaster note:
And this man gave testimony at the Eichman Trial.
Says Elie Wiesel — another feted Holocaust survivor whose "memories" are often inseparable from hallucinations — this is "An extraordinary book written by an extraordinary person. It is a long time since I have heard a voice like this: the voice of a wounded whose cry is prayer."
This was one of the winning entries in the 5th Annual David McCalden Most Macabre Halloween Holocaust Tale Challenge in 2008.