HOLOCAUST SURVIVOR COOKBOOK
The Most Important Hanukkah Gift you will ever give!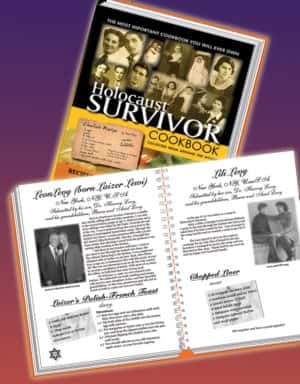 129 Miraculous Stories of Survival
Over 200 Great Jewish Recipes
Over the past two years we have collected 129 stories and over 200 great Jewish recipes from Holocaust Survivors all over the world.
We have compiled these miraculous stories and delicious recipes to create an amazing Holocaust Survivor Cookbook. A cookbook that belongs in every Jewish home in the world!
The Theme of the Cookbook is:
RECIPES YOUR FAMILY WILL ENJOY…
STORIES THEY WILL NEVER FORGET!
---
"Thank you so much for the amazing and beautiful cookbook. I just sat down and cried when I received my book"
"The cookbook came today and it is wonderful. I read it from cover to cover — smiling, weeping, and remembering"
"You cannot yet appreciate the impact on the lives of the people who have not even shared the benefits of this book yet, nor the impact upon those who cannot yet read, or who have not even been born yet."
"Reading the book is a perfect way to honor the memories of those who perished in the Holocaust as well as those who have carried on such important traditions."
---
You can buy the cookbook at the US Holocaust Museum in Washington, DC
OR
You can buy it online and have it shipped directly to you, your relatives, and friends
ORDER THIS AMAZING COOKBOOK AND HELP FEED HUNGRY ISRAELIS*
CLICK HERE TO ORDER
* PROCEEDS FROM EACH COOKBOOK SOLD WILL GO TO HELP FEED HUNGRY ISRAELIS AT CARMEI HA'IR SOUP KITCHEN IN JERUSALEM. (For more information, visit www.carmeihair.org.il)
Please forward this email to everyone you know who would be interested in purchasing theHolocaust Survivor Cookbook. Together we can make a difference!
Thank You,
The Caras Family
Joanne, Harvey, Jonathan, Sarah,
Rachel, Dan, & Mickey
This e-mail was sent by Caras & Associates, Inc., located at P.O. Box 230, Clarksville, MD 21029 (USA). To receive no further e-mails, please click here or reply to this e-mail with "unlist" in the Subject line.
---
Source:
activistsandiego.org/wwwboard/viewtopic.php?t=17919