The original construction plans believed used for a major expansion of the Nazi death camp at Auschwitz in 1941 have been found in a Berlin flat, Germany's Bild newspaper reported on Saturday. The daily printed three architect's drawings on yellowing paper from the batch of 28 pages of blueprints it obtained. One has an 11.66 metre by 11.20 metre room marked "Gaskammer" (gas chamber) that was part of a "delousing facility".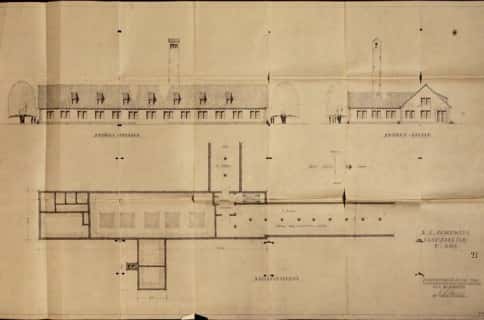 No one from the federal government's archives was immediately available for comment on the authenticity or importance of the documents.
The plans, published ahead of the 70th anniversary of the "Kristallnacht" or the Nazi pogrom that was a harbinger of the Holocaust, also include a crematorium and a "L. Keller" — an abbreviation for "Leichenkeller" or corpse cellar.
A drawing of the building for Auschwitz's main gate was also found in the documents that Bild said were believed to have been discovered when a Berlin flat was cleaned out.
The mass-circulation newspaper quoted Hans-Dieter Kreikamp, head of the federal archives office in Berlin, as saying the blueprints offered "authentic evidence of the systematically planned genocide of European Jews."
[…]
The newly found Auschwitz blueprints are dated Oct. 23 1941 and could offer historians earlier evidence of Nazi plans to kill Jews on a mass scale, Bild said.
"These documents reveal that everyone who had even anything remotely to do with the planning and construction of the concentration camp must have know that people were to be gassed to death in assembly-line fashion," Bild wrote.
"The documents refute once and for all claims by those who deny the Holocaust even took place," it added.
[…]
---
Source:
welt.de/english-news/article2694122/Auschwitz-blueprints-surface-in-Germany.html
8.November 2008, 18:30
---
Webmaster note: This is typical of articles about well-known documents, written to imply that they are freshly discovered and present new evidence.
In fact, the October 23, 1941, blueprint that shows a "gaskammer" reveals nothing substantively different than a similar blueprint dated November 8, 1941, which appeared in Jean-Claude Pressac's Auschwitz: Technique and operation of the gas chambers in 1989 (page 55). Revisionists such as Robert Faurisson and Art Butz have long ago dealt with this issue. You can read Art Butz' treatment here.